The Coronavirus Pandemic may have shut down the economy for the last 2 months, but not all news is bad... especially the real estate news.
Interest rates are hovering around 3.25% for a 30-year fixed mortgage and the real estate market has been surprisingly resilient.
With all the negative news, I figured it was worth taking a deep dive into our local markets.
There Are Many Positive Signs In The Market
With all the negative news nationally, you'd think the real estate market was all doom and gloom.
Not so.
This report from the National Association of Realtors does show that overall inventory dropped by 15.3% nationally year-over-year.
However, you have to remember that real estate is local.
If we look at the numbers in Easton, Mansfield, and Foxboro closely, the market has been surprisingly resilient.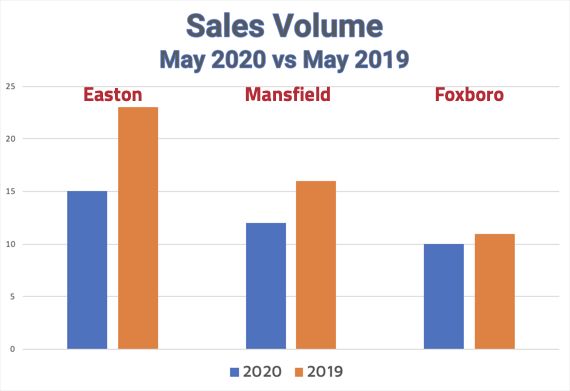 Sales Volume Year Over Year
Sales volume for May 2020 is down compared to May 2019.
The data represents a 29.7% decrease in total sales volume between the 3 towns.
This is to be expected with the current coronavirus pandemic putting a damper on the real estate market as a whole.
There are fewer homes for sale, fewer active buyers, a massive increase in unemployment between layoffs and furloughs, and a number of changes in financing as lenders look to reduce their risk for non-conventionally financed buyers.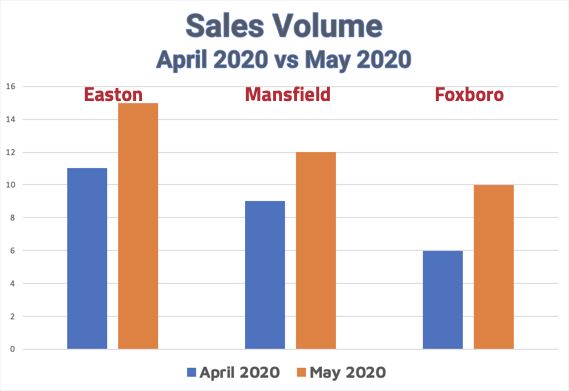 Sales Volume Month To Month
However, what we see from April 2020 to May 2020 is cause for optimism. In all 3 markets, sales volume increased.
Why?
First, people still need a place to call home.
Second, as time progresses and we have more data to review, people are making decisions for themselves about whether or not to be fearful of the virus.
Third, there is still pent-up demand - buyers have been looking for homes in a reduced inventory market... and they're still looking and still active... coronavirus or not. This leads us to the next evaluation... sales price.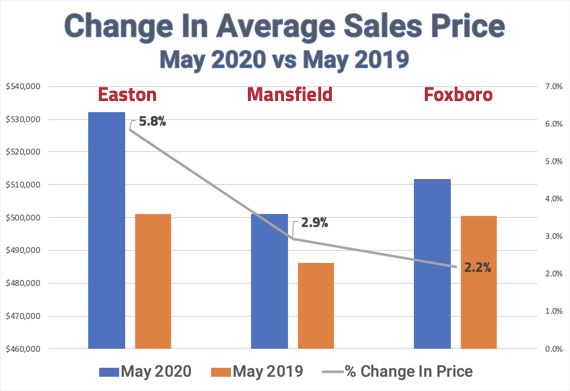 Sales Price Year Over Year
Sales price continues to rise in our local markets. There are a number of reasons for this:
Typical Supply vs Demand economics. The lack of inventory means qualified buyers have fewer options to pick from and, as a result, we're still seeing multiple offer situations.
Low Interest Rates. We're still seeing historically low interest rates, with 30-year conventional fixed rates down in the 3.25% range. This means buyers can afford more home and we're seeing that translate into a continued rise in prices.
Abundance of Qualified Buyers. Overall, while over 36M people have filed for unemployment during the forced government shutdown, there are still qualified buyers out there... and the buyers know that their competition is also well-qualified and acting accordingly.
Lack of In-Person Appraisals. In order to limit the spread of the coronavirus, banks temporarily changed their appraisal policies and have been allowing "desktop appraisals", meaning appraisers are looking at pictures on the MLS to complete their work.
Market Snapshot
Easton has been leading the way in 2020... which has not been the case the past few years.
In May, Easton saw 22 single family homes go under contract and 15 close, down from 23 closings in May 2019. Homes in Easton are selling for an average of $523,165 and are selling within 72 days overall, a rise of 2.8% (or 2 days) Year Over Year.
Mansfield saw 19 single family homes go under contract and 12 close, down from 16 closings in May 2019. Homes in Mansfield are selling for an average of $500,966 and are selling within 41 days overall, a decrease of 9.8% (or 4 days) Year Over Year.
Foxboro saw 13 single family homes go under contract and 10 close, down from 11 closings in May 2019. Homes in Foxboro are selling for an average of $511,835 and are selling within 61 days overall, a rise of 6.6% (or 4 days) Year Over Year.
Pending Ratio
Pending Ratio is an indicator of how hot the market is as a whole. It's a ratio of the number of homes currently under contract vs the number of homes active on the market. Anything over 100% is an overheated market, where over 150% is a 🔥 HOT 🔥market.
The Pending Ratios for Easton, Mansfield, and Foxboro are:
Easton: 137.1%

Mansfield: 107.7%

Foxboro: 133.3%
All markets are Overheated Markets.
Absorption Rate
Absorption Rate tells us if the market is a Buyer's Market or a Seller's Market. Anything UNDER 5 Months is a seller's market and anything OVER 7 Months is a buyer's market. The further away from 5 or 7 months indicates how strong a market it is.
The Absorption Rates for Easton, Mansfield, and Foxboro are:
Easton: 1.9 Months

Mansfield: 1.7 Months

Foxboro: 1.4 Months
All markets are VERY STRONG Seller's Markets.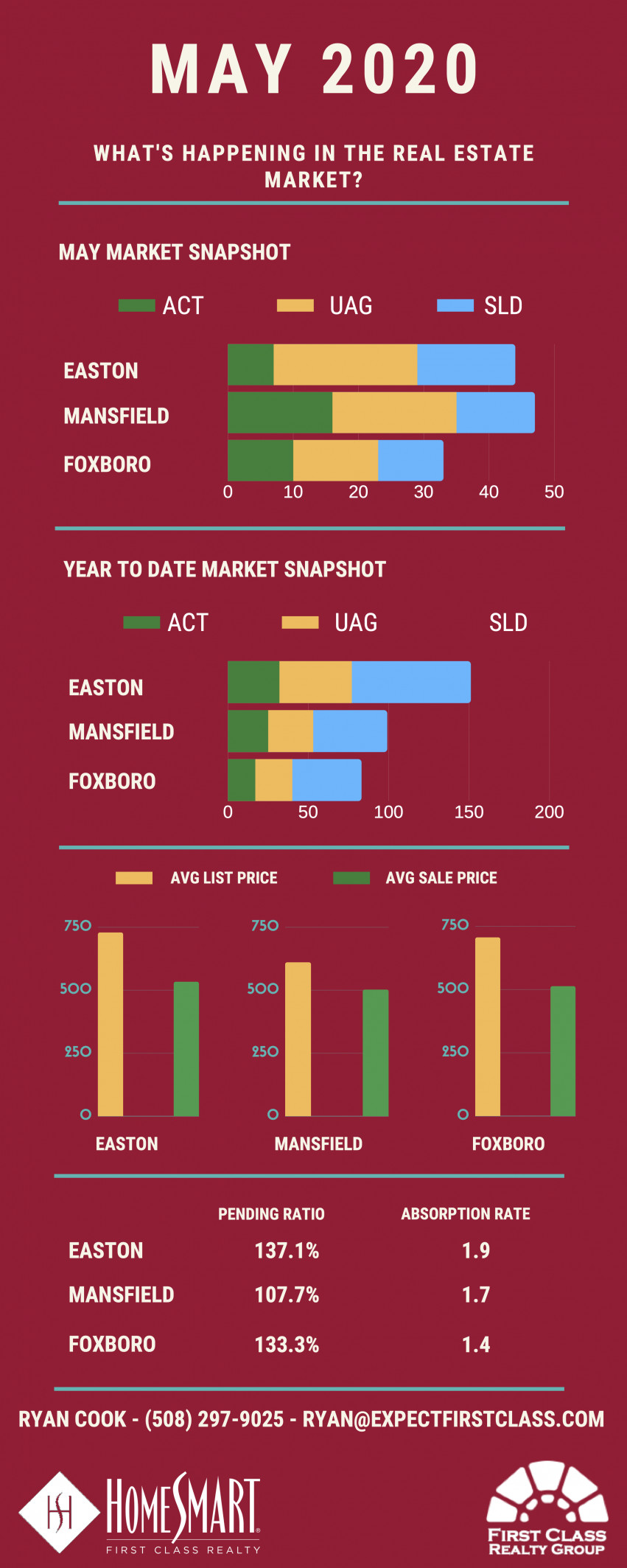 Most In-Demand Price Range
For all 3 towns, the most in-demand price point is the $400,000 - $449,999 price range. In Easton and Foxboro, there are 0.0 months of inventory... and 0.73 months of inventory in Mansfield.
So what does a home in this price point look like?
On average, we're looking at homes with the following qualities:
Style: Colonial, Cape, Raised Ranch
Bedrooms: 3BR
Bathrooms: 1 full and 1 half
Square Footage: From 1400 - 1800 sqft, on average
Garage: Not required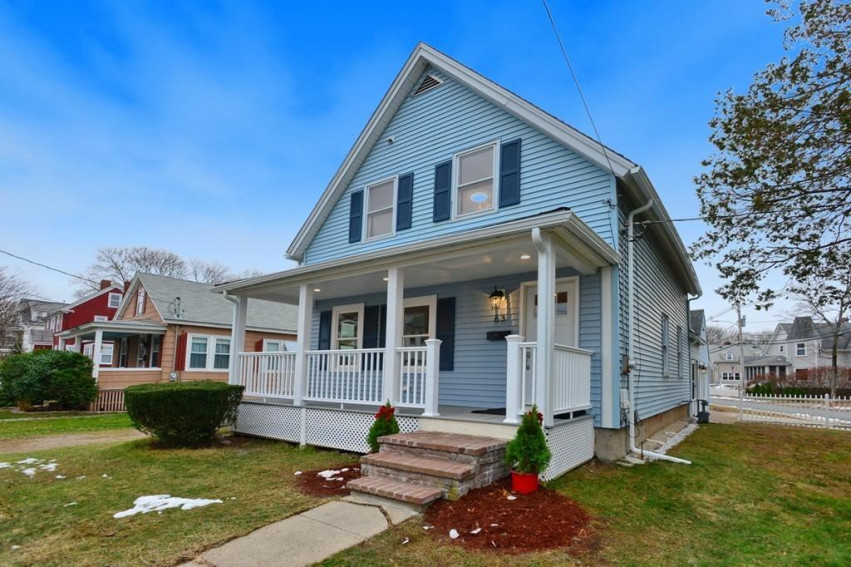 Selling Your Home?
Get your home's value - our custom reports include accurate and up to date information.
Get Home Value